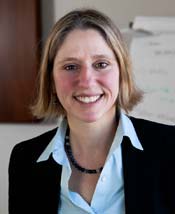 Who We Are
Change agents Christine Wyman and Ashwin Mehta came together in 2010 to find a way to fuse their interest in the environment and social causes. Inspired by Tom Szaky's book, "Revolution in a Bottle," along with their personal experiences of volunteering in human service organizations, they looked for a way to join their two goals. They bring their organizational and entrepreneurial expertise and enthusiasm to Social Catalysts.
Christine Wyman, co-founder
Christine has 25 years of experience in strategic planning, marketing, and engineering. She's worked for Quantum Corporation and Digital Equipment, and in 1999 founded her own marketing consulting business, Integral Marketing. While at Quantum, Christine managed DLT tape products designed for computer data backup in large corporate environments.
Christine's non-profit experience includes five years on the Board of Directors of Greater Marlborough Programs, Inc., a human services organization that provides residential, socialization/recreation, and job training support for people with developmental disabilities. She currently chairs the Worcester Advisory Board of the Center for Women and Enterprise, one of the largest entrepreneurial training organizations in New England.
Christine has an MBA from Dartmouth College and a B.S. in Engineering from Cornell University.
Ashwin Mehta, co‐founder
Ashwin has worked in business and industry, has founded his own businesses and is currently teaching as a visiting faculty member in the College of Management at the University of Massachusetts, Lowell. He held a number of management positions in marketing and strategic planning at Honeywell and Groupe Bull and started two business ventures in software and information technology services. At UMass Lowell, he teaches undergraduate and MBA courses in strategy, corporate entrepreneurship and global enterprise.
Ashwin's non-profit work includes helping the Lowell Small Business Assistance Center develop their strategic plan. He is also on the board of the Merrimack River Watershed Council and serves on an advisory board of the UMass Lowell College of Management.
Ashwin has a BS in Mechanical Engineering and a Masters in Industrial Engineering.